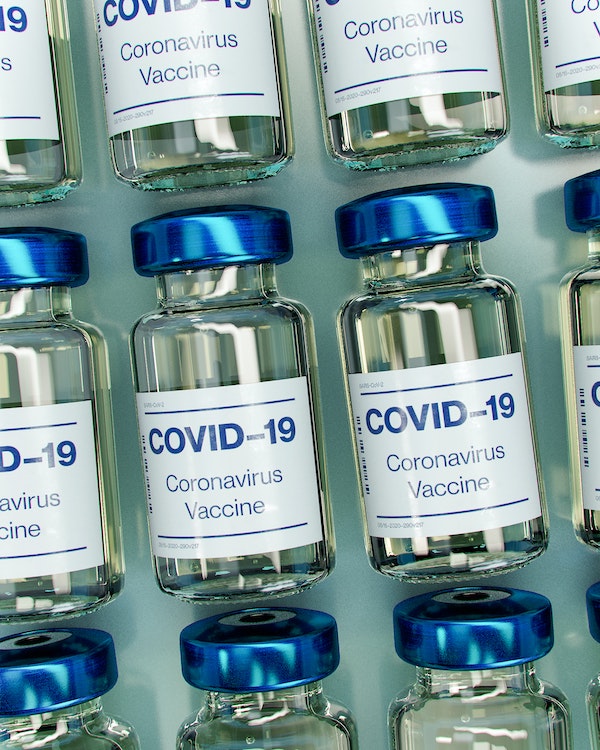 Note: This article was edited on 19 December to include a statement from the EU supporting sharing of intellectual property, technology, and know-how transfer.
The first doses of Covid-19 vaccines administered this week in the United Kingdom and the United States seemed to offer hope to a world weary from a virus that has killed 1.6 million people and disrupted the lives of billions more. But that hope was limited for many in low- and middle-income countries questioning if, and how, they might gain timely access.
Health experts have a clear priority list for access to vaccines: frontline health workers and people at high risk must be first in line, globally. But many wealthy nations have engaged in 'vaccine nationalism' – buying up doses in bulk and in advance, leading to fears from developing nations that they will be pushed to the back of the line.
South Africa and India have therefore requested that the World Trade Organization (WTO) institute a waiver of most of the Trade-Related Aspects of Intellectual Property Rights Agreement (TRIPS) in relationship to Covid-19 prevention, containment and treatment until the pandemic is under control. The proposal is now co-sponsored by Bolivia, Kenya, Eswatini, Mongolia, Mozambique, Pakistan, and Venezuela. The countries are looking to more easily circumvent intellectual property challenges that could delay the massive scale-up in production of vaccines, treatments and other technologies needed to meet a staggering global demand.
After failure to reach consensus on the waiver at informal meetings on 20 November and 3 December, the TRIPS Council chair provided a brief update on the issue before the WTO General Council meeting 16-17 December. The plan now is for the TRIPS Council to continue deliberation, after which the issue will formally go to the General Council in.
The passing of such a waiver at the WTO would be a step in the right direction, removing Intellectual property barriers to access and production of Covid-19 health products.
Know-how, not just IP
But it is not likely to be enough. South Africa and India noted in their proposal the "urgent call for global solidarity, and the unhindered global sharing of technology and know-how" to facilitate scale-up.
The two vaccines currently winning the race – Pfizer/BioNTech's, which has been approved for use in multiple countries, and Moderna's, which looks poised to pass US Food and Drug Administration review shortly – are both "mRNA" vaccines. They represent an entirely new class of vaccines to be available on the market, one that has been in development for decades but only recently reached the technological development needed to administer them effectively at scale. Nature several years ago noted mRNA's have the "the potential for rapid, inexpensive and scalable manufacturing", which is promising, but being first in class means that best practices on how to make them must be shared alongside intellectual property.
Medicines Law & Policy has recently published a briefing note detailing the 'IP stack' that countries must navigate to be able to manufacture new medical technology, including not only intellectual property but also know-how, and access to clinical test data. High income countries could also face challenges navigating this IP stack, since much of the manufacture of Active Pharmaceutical Ingredients has been outsourced to China and India.
Next Steps
On 17 December, the CEO of German biotech company Curevac published an op-ed supporting the suspension of patents during the pandemic phase and making specific reference to South Africa and India's proposal. "We need each other" to fight the pandemic, he said, adding that both test-data and know-how must also be shared. It is important that the private sector, including those with promising vaccine candidates, is now recognising that no one company's manufacturing capacity can singlehandedly fulfil the urgent and enormous need. Pfizer/BioNTech have already experienced delays in production, according to reports.
The request for a WTO waiver has been made more urgent by worry over the implementation of two public mechanisms launched by the World Health Organization, that were intended to ensure equitable access to the medical technologies needed to fight the Covid-19 pandemic.
The first, the COVAX Facility being coordinated by the GAVI Alliance and the Coalition for Epidemic Preparedness Innovations' (CEPI), is a procurement scheme meant to offer vaccine doses for at least 20% of the populations of participating countries. But internal documents being discussed at GAVI's board meeting 15-17 December have predicted the likelihood the Facility will fail is "very high". Failure means a delayed access for people in desperate need of vaccines but living in developing countries, possibly until as late as 2024.
The second, the Covid-19 Technology Access Pool, is intended to gather intellectual property, knowledge, and data related to solving the pandemic. It was launched by the WHO in May. However, although 39 WHO member states and 4 intergovernmental bodies have indicated their support for it, there has yet to be anything shared via this mechanism. Member states have been unfortunately reluctant to require this IP and know-how sharing as a condition of receiving some of the nearly €16 billion in public financing mobilised to support relevant research, which has been instrumental in the breakneck speed of vaccine development.
While a quick resolution in favour of the proposed waiver would be wise, it is C-TAP that holds the most promise in creating the conditions under which concerns about access to intellectual property and know-how can be addressed.
On 18 December in the WTO General Council the EU made a statement saying: "What is most needed now, beyond developing vaccines, is the ramping up of manufacturing capacity, and a seamless flow through by the transport and distribution sectors. The best way of achieving that is by disseminating the technology and know-how of those who developed the vaccines, through collaboration with other companies that can contribute to the developers' manufacturing capacity. Intellectual property is a key factor in providing a framework that enables this collaboration." C-TAP could be a mechanism to ensure this dissemination.
That there has been little uptake of C-TAP to-date may be because there have been few promising technologies to-date. With the arrival of the Covid-19 vaccines, and other promising options in the pipeline, governments and global health advocates to must now push for sharing.