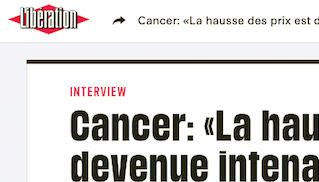 Selon le Dr Thierry Philip, Président de l'institut Curie, la hausse des prix des nouveaux traitements contre le cancer « est devenue intenable. »
L'augmentation croissante du prix des nouveaux médicaments contribue substantiellement à l'explosion des coûts de la santé et commence à mettre en péril le principe d'accès universel aux soins en France.
Les laboratoires utilisent le monopole conféré par leurs brevets pour imposer leurs prix au gouvernement.
L'argument utilisé habituellement pour justifier des prix exorbitants est l'augmentation des coûts de la recherche. Pourtant, un nombre croissant d'études indiquent que ces coûts sont très largement surestimés et qu'une plus grande transparence s'impose.
Dès lors, nous partageons l'opinion du Dr Philip concernant la nécessité d'utiliser la licence d'office lorsque les laboratoires refusent d'ajuster leurs prix à un niveau acceptable permettant la prise en charge de tous les patients.
Le code de la Propriété intellectuelle autorise en effet le gouvernement à soumettre, par arrêté ministériel, un brevet de médicament au régime de la licence d'office en cas de « prix anormalement élevés, ou lorsque le brevet est exploité dans des conditions contraires à l'intérêt de la santé publique ». Le régime de la licence d'office permet donc au gouvernement de faire fabriquer ou d'importer des médicaments génériques à prix compétitifs, faute d'accord sur un prix raisonnable avec le laboratoire du médicament breveté.
Pourtant, d'autres types d'exclusivité délivrées au niveau européen pourraient entraver l'utilisation de la licence d'office en France. Une exclusivité de marché de 10 ans est en effet accordée par l'Agence européenne des Médicaments pour tout nouveau médicament. Cette exclusivité empêche de fait la mise en œuvre de la licence d'office car elle bloque toute homologation de médicament génériques durant cette période de dix ans.
Il serait donc important de modifier la réglementation européenne en question afin de permettre l'homologation de médicaments génériques à tout moment lorsque le gouvernement français, ou tout autre gouvernement européen, décide de faire usage du régime de la licence d'office dans l'intérêt de la santé publique. Le gouvernement français devrait porter une telle initiative au niveau européen, afin de permettre aux gouvernements européens de répondre au défi des prix élevés des nouveaux médicaments.
Plus d'information sur cette proposition dans notre article publié dans le Journal of Pharmaceutical Policy and Practice.