Negotiators of a Pandemic Treaty should heed the recommendations, published 15 July in the BMJ Global Health, to design a fair global system for sharing the building blocks needed for equitable access to medical countermeasures, such as vaccines and therapeutics, in a pandemic. Those building blocks are the intellectual property (IP), know-how and technology behind the vaccines, medicines, and medical products used in a pandemic response, which companies have been generally hesitant to share in the Covid-19 pandemic. The World Health Organization Intergovernmental Negotiating Body (INB) drafting the treaty texts resumes its negotiations this morning from 18-22 July.
Ellen 't Hoen, director of Medicines Law & Policy said: "The Covid-19 pandemic has taught us that setting up voluntary mechanisms for sharing IP and know-how in the middle of a global health crisis does not work. Upfront commitments are necessary so that the next time around pandemic countermeasures are public goods that are equitably shared. The seven components we outline to be included in the Pandemic Treaty should provide a better collective response to global health threats than what we are witnessing during the Covid-19 pandemic."
"The most obvious task will be to find agreement on the terms for sharing intellectual property rights and know-how from government funded research, if not as a universal obligation, at the least as part of an optional protocol," said James Love, director of Knowledge Ecology International.
The authors of the BMJ Global Health article recommend that a Pandemic Treaty ensures sufficient financing for biomedical R&D, create conditions for licensing of government-funded R&D, mandate technology transfer, share IP, data and knowledge needed for the production and supply of products, and streamline regulatory standards and procedures to market medical countermeasures. The authors also recommend that a Pandemic Treaty ensures greater transparency and inclusive governance of these systems.
These recommendations are launched by an International Expert Working Group on how the Pandemic Treaty should regulate the global sharing of intellectual property, know-how and medical technology. The International Expert Working Group was convened by Medicines Law & Policy, Knowledge Ecology International, and the Menorca School of Public Health in October 2021.
These findings are particularly relevant now that the 194 Member States of the World Health Organization (WHO) agreed to negotiate towards an international instrument that would better position the world to prevent, respond, and prepare for future pandemics. (This instrument is often called a 'Pandemic Treaty'.)
Katrina Perehudoff, lead author and Assistant Professor at the University of Amsterdam and researcher for Medicines Law & Policy said: "Our expert group has laid out seven ways that Pandemic Treaty negotiators can address the major shortcomings in our current international law and practices for fairly distributing medical products in a crisis. These seven recommendations are consistent with existing international law, with high-level political commitments, and with sound public health practice." An infographic containing the summary recommendations is below.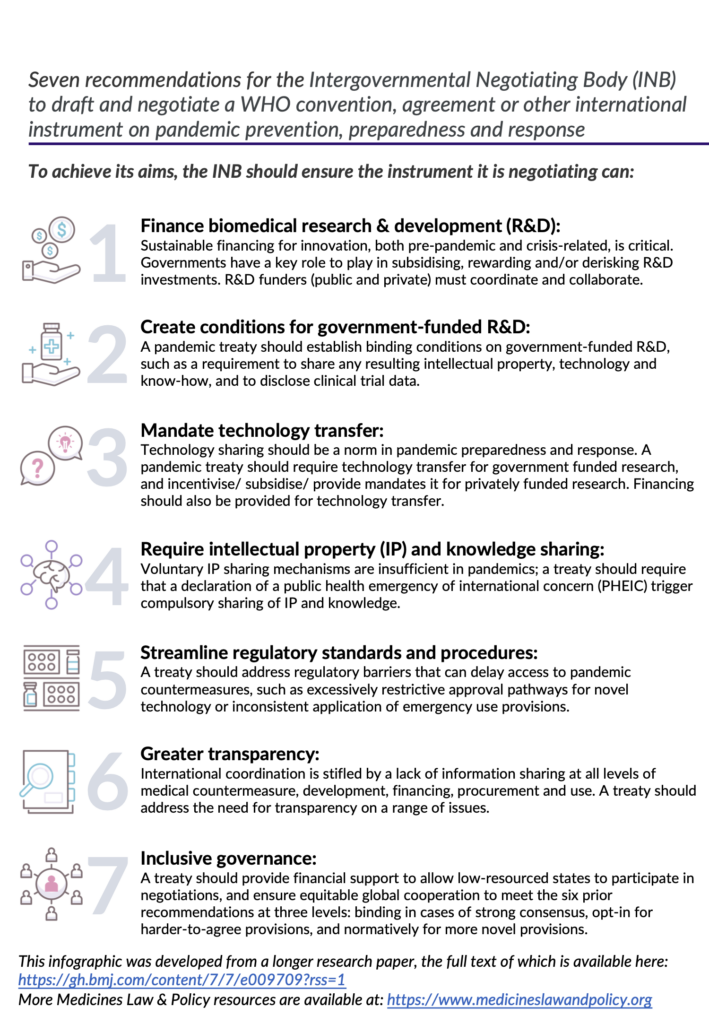 –
Publication details: Perehudoff K, 't Hoen E, Mara K, et al. A pandemic treaty for equitable global access to medical countermeasures: seven recommendations for sharing intellectual property, know-how and technology. BMJ Global Health 2022;0:e009709. doi:10.1136/bmjgh-2022-009709