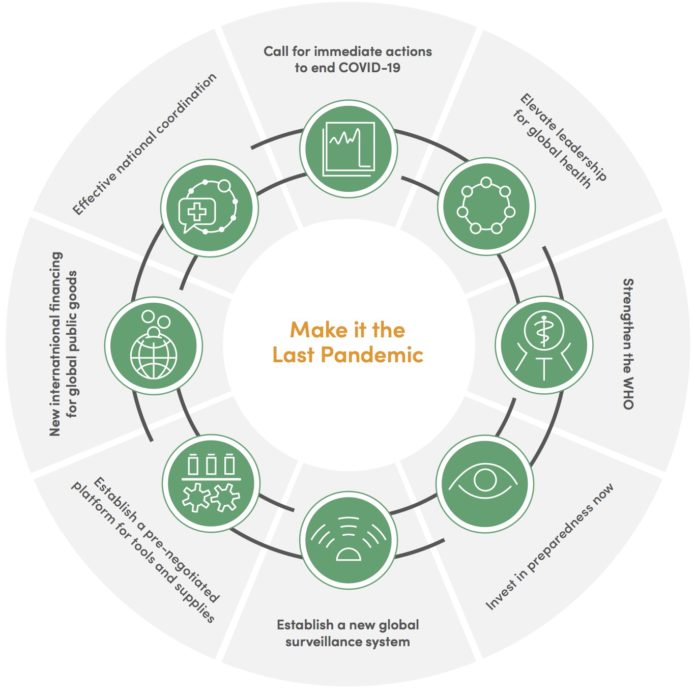 The Independent Panel for Pandemic Preparedness and Response (IPPPR) today released its findings in a report titled "Covid-19: Make it the last pandemic," laying out recommendations for "system-level change … needed to overcome the manifest failure of the international system to prevent, contain and mitigate the impact of a pandemic." The full report will be presented to the World Health Assembly, taking place 24 May – 1 June.
"This must be the last pandemic to cause destruction on the scale we are seeing today," said IPPPR co-chair and former President of Liberia Ellen Johnson Sirleaf, adding that lessons learned from previous health disasters "gathered dust" despite clear warnings about the risk of a pandemic and this must not happen again.
The "global winner takes all scramble" to secure equipment and medical supplies was among the critical missteps highlighted by co-chair of the IPPPR and former New Zealand Prime Minister Helen Clark at the report's launch. But, Clark added, one sign of hope was the open data and open science collaboration that allowed the Covid-19 genome to be sequenced and shared with unprecedented speed. Now, the "benefits of it must also be shared freely and openly," Clark said. "Covid-19 must not evolve into a neglected pandemic" where it is over in wealthy countries while poorer nations face border closures and years of wait to access vaccines. 
In light of this, Clark said that recent US support of a proposed waiver of intellectual property rights on Covid-19 vaccines was "a game changer" and "a vital step in the right direction" but added "we need voluntary licensing and technology transfer now." Clark called on WHO to convene vaccine producing countries and companies to agree to voluntary licences and technology transfer for Covid vaccines.
Eight recommendations to end this crisis and prevent the next
The IPPPR report makes 8 bold recommendations for bringing the Covid-19 crisis to an end and ensuring that it is the last public health emergency to spin so out of control. They are: to take immediate action to end Covid-19; elevate leadership for global health; strengthen the World Health Organization (WHO); invest in preparedness; establish a new global surveillance system; establish a a pre-negotiated platform that can produce and equitably distribute vaccines, diagnostics, treatments and other tools to fight the next pandemic; set up international financing for global public goods; and ensure effective national coordination. If implemented fully, the recommendations can rapidly end the current pandemic and prevent the next one.
This challenge of 'vaccine nationalism' was highlighted in the report: many high-income countries have now been able to secure enough doses of vaccine to cover 200% of their populations, while many middle- and low-income countries are struggling to secure access. "Progress in sharing know-how, licensing and intellectual property has been slow," the report notes. The vastly unequal distribution of resources needed to address the Covid-19 pandemic was a key ingredient in a "toxic cocktail which allowed the pandemic to turn into a catastrophic human crisis." 
Clark also noted at the reports launch that the "current model of development and delivery" of vaccines, treatment and other health tools "isn't fit for purpose" and there is a need to shift away from a market-based model to one based on global public goods. Linked to this, the report recommends that technology transfer and a commitment to voluntary licensing must be included as conditions of public financing for research and development of health tools such as vaccines. It also recommends strengthening regional capacity to manufacture, regulate and procure needed medical tools, including via "commitments and processes for technology transfer."
The report calls for the creation of a Pandemic Framework Convention to address gaps in international response, clarify roles and responsibilities and establish and reinforce legal norms. It also calls for the creation of a Global Health Threats Council at the level of heads of states and governments to monitor progress towards pandemic preparedness goals set by the WHO, guide resource allocation, and maintain political commitment to pandemic preparedness and response. 
The report sets out a roadmap for the implementation of its recommendations. The Panel's specific recommendation for immediate action on intellectual property reads:
WTO and WHO to convene major vaccine producing countries and manufacturers to get agreement on voluntary licensing and technology transfer arrangements for COVID-19 vaccines (including through the MedicinesPatent Pool (MPP)). If actions do not occur within 3months, a waiver of TRIPS intellectual property rights should come into force immediately.
It also calls for changes in the way the WHO is financed, to allow the agency greater independence in its decision making. Currently, the WHO gets over 80% of its budget from voluntary contributions, most of which are earmarked. Instead member states should increase their direct financial contributions towards WHO's general budget.
"A new deadly virus could arise tomorrow," said Sirleaf at the report's launch. "The world was not prepared for this one. We must prepare for the next one."
The full report is available here.
Medicines Law & Policy contributed a background paper to the IPPPR work, which is available here.
ML&P along with Health Action International and Knowledge Ecology International will host a webinar on 21 May to discuss how to unlock intellectual property, knowledge and know-how for the public good in the Pandemic Treaty. Helen Clark will deliver the keynote. Registration for the event is available here.