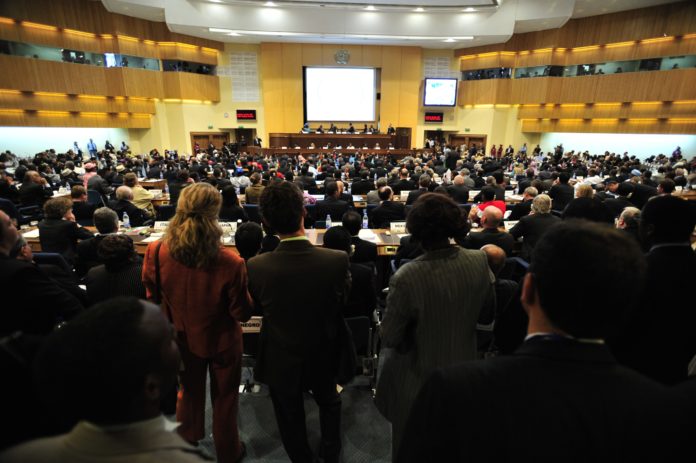 A earlier version of this commentary was published on 28 November 2021 by Barron's.
This is a time of missed opportunities. This week, trade ministers were scheduled to meet at the 12th Ministerial Conference of the World Trade Organization in Geneva, Switzerland. The meeting was postponed due to the alarming emergence of the Omicron variant. The delay and the lack of action so far shows just how badly the world needs creativity and flexibility in our responses to the current global inequity in access to pandemic countermeasures, which creates fertile conditions for new variants.
A little up the road from the WTO, health ministers will still meet, partially virtually, at the World Health Organization for a special session of the World Health Assembly. Both fora were intending to discuss the current global inequity in access to pandemic countermeasures, and both fora will attempt to come up with solutions for the refusal by many pharmaceutical companies to share intellectual property and manufacturing know-how. The WTO Ministerial Conference was expected to adopt a declaration on pandemic responses and make progress on a waiver of intellectual property protection for the duration of the pandemic, as was proposed over a year ago by South Africa and India. The Special Session of the World Health Assembly is tasked with deciding on a new set of global health rules to better prepare for the next pandemic.
The Covid-19 pandemic has shown that there are important areas in dire need of regulation before a health crisis takes place. In particular, the world needs rules to ensure that pandemic countermeasures such as vaccines become global common goods. This does not happen by promises alone, as we have seen. It requires new rules on sharing of know-how and IP and sufficient financing for the research and development of these products. Sorting this out in the middle of a global health crisis has proven to be a bad approach—so bad that WHO director-general has referred to it as a "catastrophic moral failure." Also, the reach of health ministers alone has its limitations because there are key IP and trade matters involved that "belong" to the WTO.
Now, imagine if the health and trade ministers decided to meet in the same room. They could hammer out solutions to the problems that have led to the grave inequity in access to vaccines and other tools needed in the response to the pandemic. What might they accomplish? Here are a few suggestions.
Countries should be allowed to waive their obligation under the World Trade Organization Trade-Related Aspects of Intellectual Property Rights (TRIPS) Agreement to grant and enforce certain intellectual property rights, such as patents. This is the proposal made in October 2020 by South Africa and India and supported by over 120 countries. It is also possible under Article 73 of TRIPS.
The ministers should agree that pandemic countermeasures and the knowledge needed to produce them are global public goods, or common goods. And that therefore, in the case of a pandemic, intellectual property rights, including trade secrets, data and know-how, needed to produce and supply vaccines, therapeutics, and all other pandemic countermeasures will be shared or otherwise made available through compulsory measures.
Ministers should agree that innovations needed to prevent a pandemic outbreak and respond to one shall be available for licensing and technology transfer, in particular when publicly financed. This should be done by countries committing to place conditions on public R&D financing that requires recipients of funding to license resulting technology and share resulting know-how on a non-exclusive basis. Governments also use advance purchase agreements to de-risk the costs associated with the development of new products by committing to buy a certain amount of a product still in development. These agreements should also be subject to such licensing and tech transfer conditions.
Agreements to share IP should be made in the form of global, transparent, royalty-bearing licences with the Medicines Patent Pool and the Covid-19 Technology Access Pool. The first such licence was announced last week.
To ensure that there is sustainable production capacity of vaccines in every region of the world, ministers should also commit to making financing available for expanding pandemic countermeasures production capacity in regions that are currently underserved. This is particularly important for sub-Saharan Africa, where vaccine production is practically nonexistent. The technology transfer hubs that the WHO and Medicines Patent Pool are setting up to share mRNA vaccine technology are a step in the right direction, but more capacity building is needed.
Of course anything our hypothetical joint ministerial meeting agrees to should not weaken any flexibility countries currently have in intellectual property law under the TRIPS Agreement and the 2001 Doha Declaration on the TRIPS Agreement and Public Health. The ministers should agree on making the use of flexibilities included in TRIPS, such as compulsory licensing of patents, easier. For example, they should waive the requirements that a compulsory licence be predominantly for the supply of the domestic market so that products to prevent or respond to a pandemic and manufactured under a compulsory licence can be freely traded across borders.
They should further clarify that nothing in the TRIPS Agreement stands in the way of members taking measures to access or transfer know-how, data, and trade secrets.
The ministers should also stipulate that future bilateral or regional trade agreements will protect members' right to implement the outcome of the joint health and trade ministers meeting.
Of course, it is unlikely that the health and trade ministers will spontaneously organise such a meeting. But that does not take away from the fact that assuring access to IP and manufacturing know-how is crucial to fulfil the promise that pandemic vaccines, therapeutics, and other countermeasures will be global public goods. Perhaps it is time for the United Nations to take this up.